KOLKATA: Police brass is likely to discuss security features of ATMs with bank officials after the recent physical audit threw up several lapses, including banks' ignorance about non-functional CCTV cameras, irregular duty hours of security guards and usage of old software in some ATMs.
An analysis of the reports filed by each of the 71 police stations to their respective DCPs about the ATMs under their jurisdiction has led senior officers to identify specific trouble areas. In a case at Regent Park, for example, and again at Jorabagan, local police found that CCTVs had stopped functioning four days ago due to a technical fault. But the bank authorities had no idea about it as the maintenance has been handed over to a third party. "This is one area that needs immediate attention," said an officer.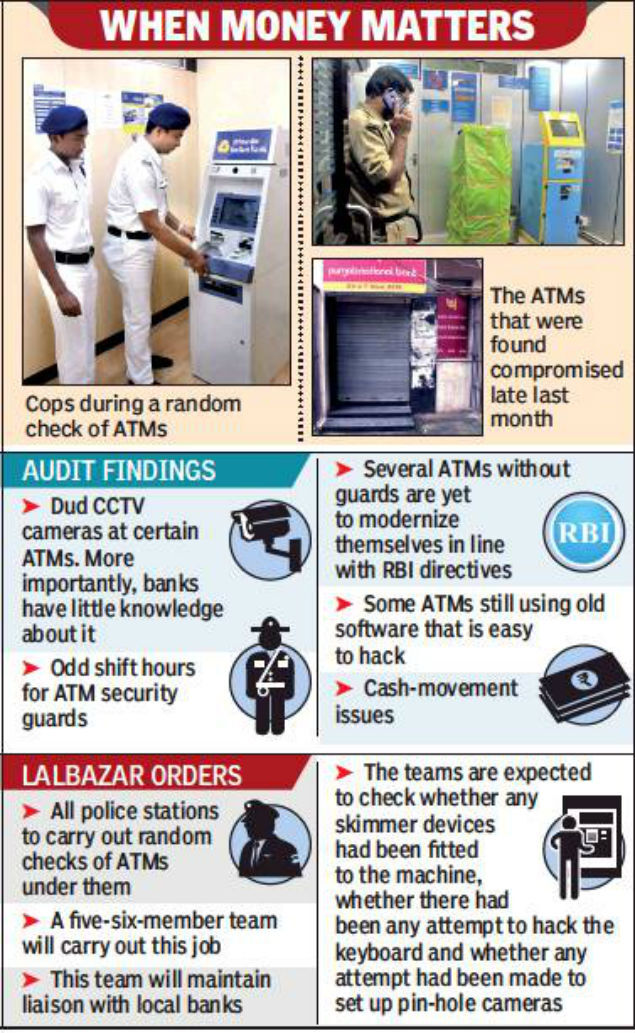 Random checks have also found that some have ATMs have guards only in the morning hours while others have them only at night. Similarly, old softwares — believed to be easily compromised — are still in operation in certain ATMs. "We might have to convene a meeting soon with bank administrators and stakeholders soon, "said an officer.
Among those who are also likely to be summoned are security agencies handling cash – guidelines for whom were set up few months ago by the ministry of home affairs. "While dealing with the security of ATMs, cash movement is also important. As per the released guidelines, security agencies handling cash transportation will have to upgrade security features, guarding facilities, hours of operation, and guard training. No operations of such vans will be allowed after 9pm and live GPS tracking will also be mandatory," said an officer.
LATEST COMMENT
Bank may set up ATM near Police Station or within State/Central Govt/Block/Panchayat offices with special protection of Security/surveillance of spy camera. Also coordination among Bank officials and… Read MoreArabinda Datta
Kolkata Police had decided to carry out the physical audit of ATMs in the wake of ATM frauds reported last month. The cops had asked all police stations to form specific teams to carry out physical examination of the ATMs located within their jurisdiction. Sources said the findings in the audit have forced cops to step in.
The police teams — working in morning and night shifts with a total of six men — checked whether any skimmer devices had been fitted to the machine, whether there had been any attempt to hack the keyboard and whether any attempt had been made to set up pin-hole cameras. "We are concerned with the entry/ exit, the physical safety of the ATM machine and the CCTV footage," explained a senior police officer from the detective department.
["Source-timesofindia"]