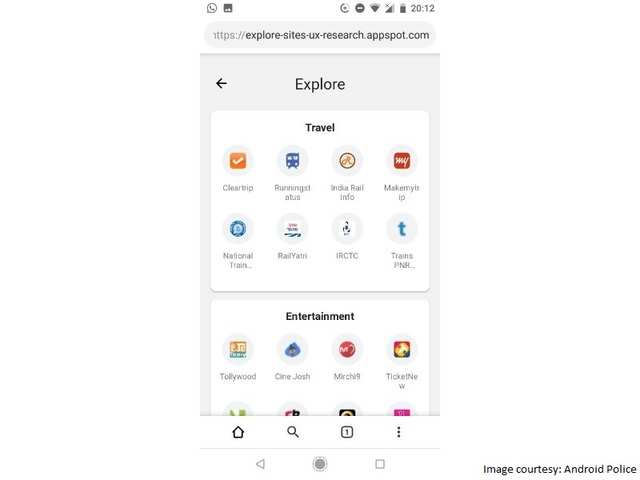 Google seems to have rolled out some additions in the Chrome tab recently. According to a report by Android Police, a new content discovery interface called 'Explore' has been added to Google Chrome. This new user interface can be accessed on Android by enabling an experimental flag. To be more precise, if you type in chrome://flags in Google Chrome and search for 'explore' in the 'Search flags' section, an 'Explore websites' flag can be seen at the top. To see the Explore interface, enable the flag, restart Chrome and launch a fresh tab. You would be able to see the interface in that tab then.
What this feature does is that it gives you a list of websites that may be as per your liking. The suggestions may be based on your interest or according to the region. If we go by the report, this feature is under testing phase right now and consists of placeholder sites, a major chunk of which may be useful for Indian users. As the report said that the Explore interface is an experimental one, we may assume that this will not be just an India-specific feature. Google may just be trying to test it out in the Indian market first and roll it out later for others. Or, it may end up as the feature that never officially sees the light of day.
Google recently launched the third-generation Google Pixel 3 and Pixel 3XL smartphones at events hosted in New York. Paris, London, Tokyo and Singapore. Pixel 2 and Pixel 2 XL smartphones came out last year and the third generation Pixel 3 and Pixel 3XL are their successors.
The new smartphones can be pre-ordered from October 11 and will go on sale from November 1. The 64GB variant of Pixel 3 is set to launch at Rs 71,000 while the 128GB one will be launched for Rs 80,000. On the other hand, the 64GB version of Pixel 3XL will go on sale priced at Rs 83,000 whereas the 128GB one will launch at Rs 92,000.
["source=pcworld"]