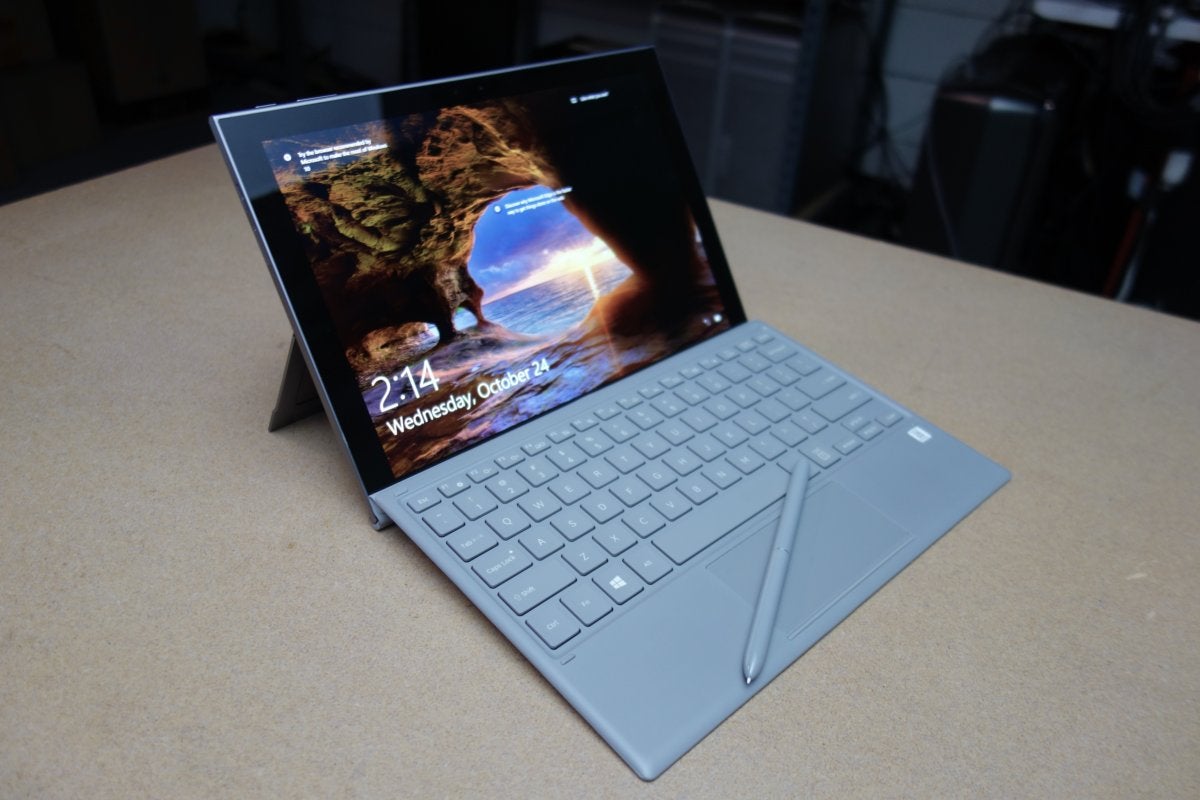 After spending an intensive few days with Samsung's Galaxy Book 2, we can see that it follows in the footsteps of the first-generation Galaxy Book that shipped last year by aiming to be a good value. It's still a traditional Windows 2-in-1 tablet built around Samsung's terrific AMOLED displays and rich sound, with LTE capability, a pen and keyboard, sold for a reasonable $999.
But the Galaxy Book 2 has also made some fundamental changes. Lured by Qualcomm's promises of all-day battery life, Samsung switched from the Intel Core i5 chip it used in the first-generation Galaxy Book to Qualcomm's new Snapdragon 850 in the Galaxy Book 2. Our preliminary tests show that performance suffers as a result. On the other hand, battery life improves enormously—up to an industry-leading 17 hours.
In addition to the CPU switch, the second generation makes some other compromises. The built-in 4GB of memory and 128GB of storage is a bit skimpy, for instance, and the OS—Windows 10 Home in S Mode—might turn some off. As we work through more testing and file a full review, we'll see if our first impressions evolve.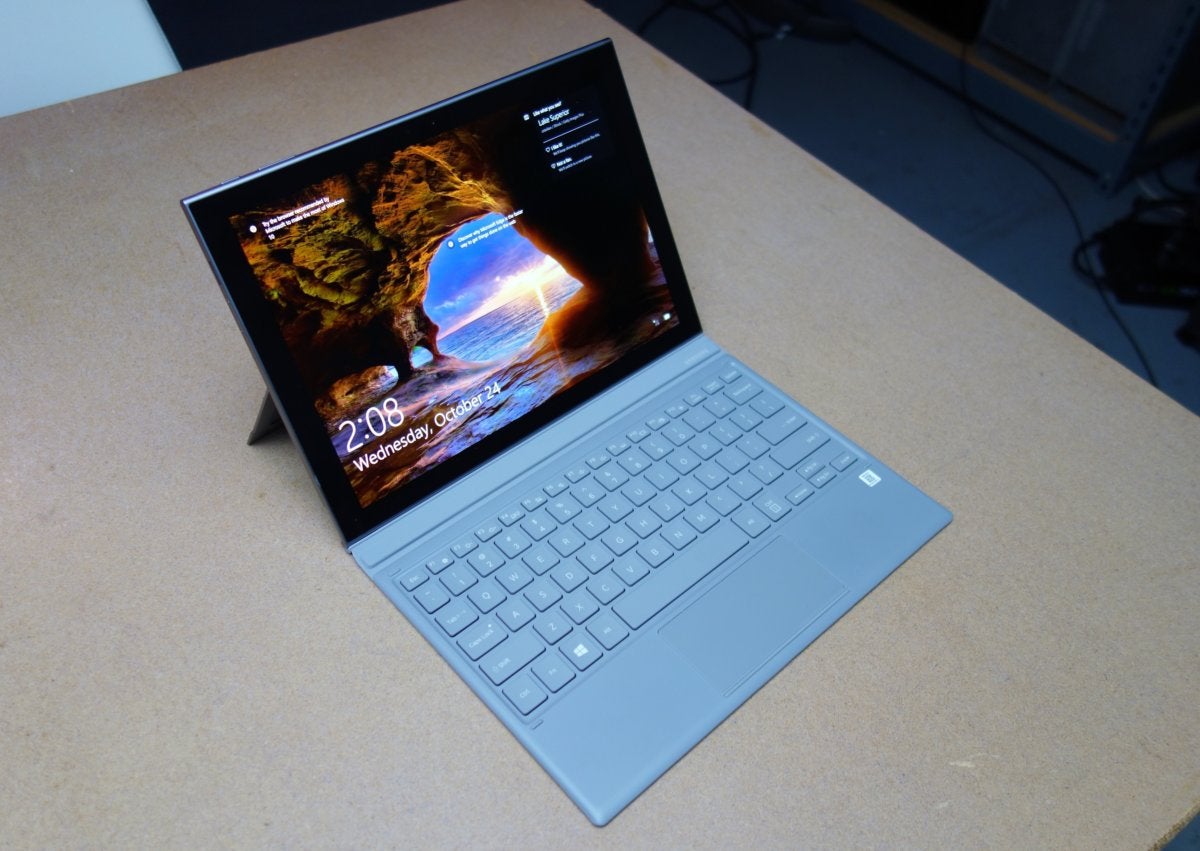 Table of Contents
Galaxy Book 2: Basic specs
Galaxy Book 2: Build quality and ports
Galaxy Book 2 typing experience
Galaxy Book 2 apps: A mixed bag
Galaxy Book 2: Cross-platform benchmarks
Show More
Galaxy Book 2: Basic specs
Display: 12.0-inch Samsung AMOLED (2160×1440)
Processor: Qualcomm 8-core Snapdragon 850 (4 cores @ 2.96GHz; 4 cores @ 1.7 GHz)
Graphics: Qualcomm Adreno 630 (integrated)
Memory: 4GB
Storage: 128GB SSD
Ports: 2 USB-C, microSD, headphone jack
Wireless: 802.11 a/b/g/n/ac VHT80 MIMO; Snapdragon X20 LTE Modem
Cameras: 5MP front, 8MP rear
Battery: 47Wh
Operating system: Windows 10 Home in S Mode (Windows 10 Home as tested)
Dimensions: 11.32 x 7.89 x 0.30 inches
Weights: 1.74 pounds (tablet), 2.42 pounds (tablet plus keyboard), 2.64 pounds (tablet, keyboard and charger), as measured
Price: $999; S Pen and keyboard included
Galaxy Book 2: Build quality and ports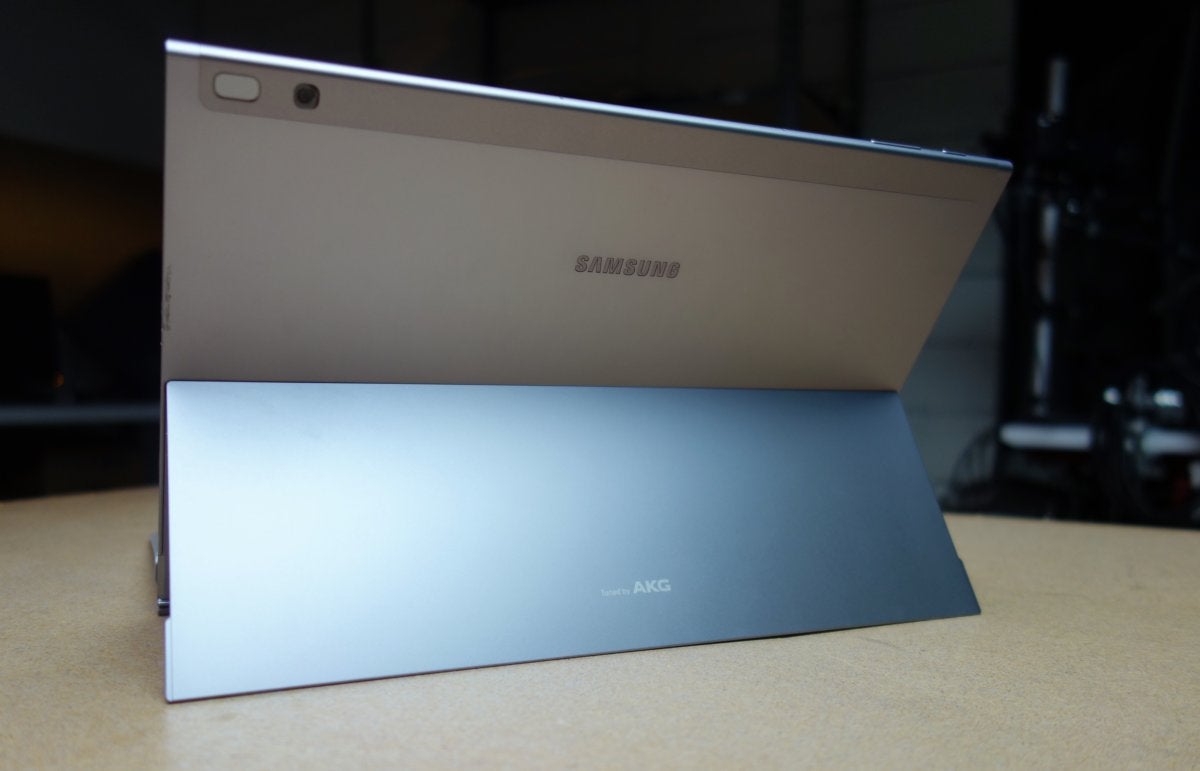 Physically, the Galaxy Book demonstrates that changing horses midstream sometimes necessitates a new harness and tack. Samsung clearly is aiming for good-enough performance this time around. The Galaxy Book 2 is a tad shorter, a bit wider, slightly thicker, and 0.08 pounds lighter than its predecessor.
The first-generation Book sported a chunky bezel surrounding the screen, and I was hoping for something a bit leaner this time around. No luck. Fortunately, if you've seen a Samsung display before, you know what you get: deep, dark blacks and rich colors—though maybe not as rich or color-accurate as the displays on Microsoft's Surface Pro 6. The AMOLED touchscreen display pumps out a comfortable 329 nits of luminance, which will work well indoors and out. While the tablet isn't totally sealed—a couple of vents on either side seem like some sort of new, strange expansion port—it is fanless.
As for real expansion ports, Samsung leapt ahead to USB-C with the first Galaxy Book, and the second Galaxy Book 2 also sports a pair of USB-C ports. Unfortunately, Samsung wasn't as thoughtful as, say, the Huawei Matebook: You'll have to supply your own USB-A adapter if you want to connect to legacy devices. High-speed Thunderbolt connections aren't available, either.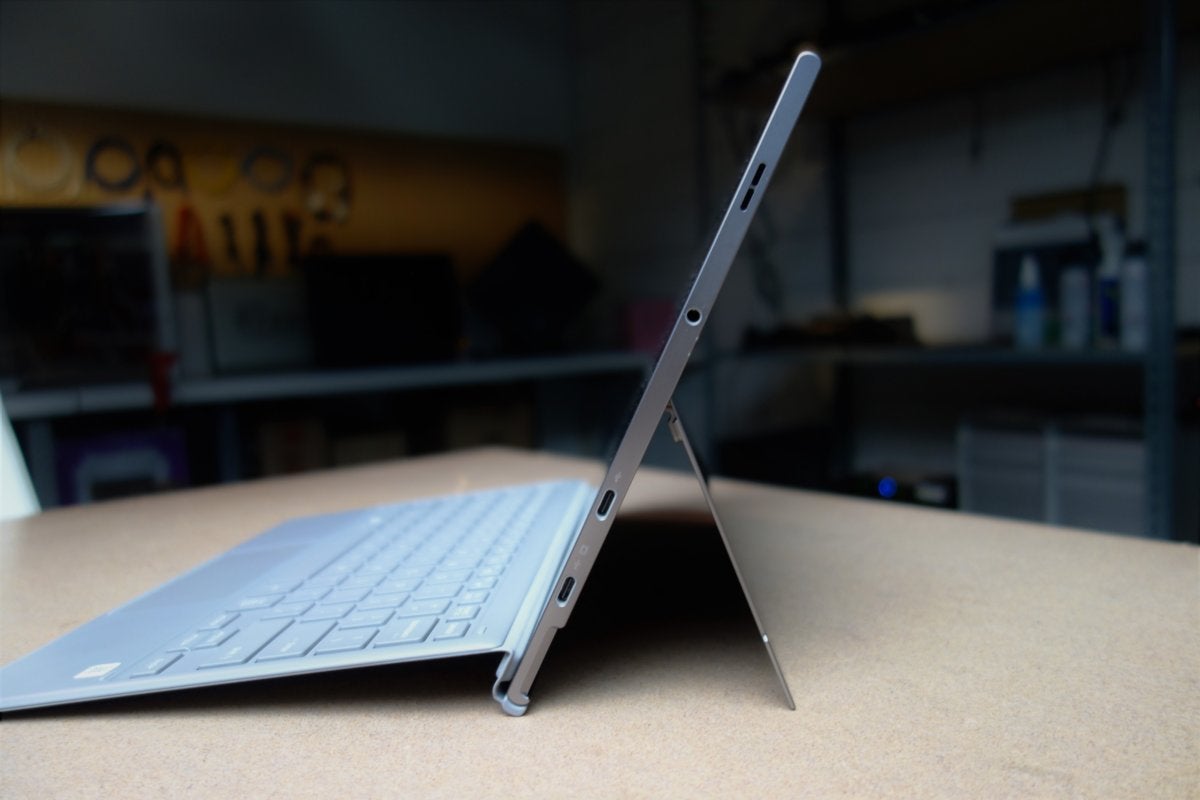 Keep in mind that the LTE slot also apparently doubles as a microSD holder, though adding or subtracting either a SIM or microSD card requires one of those annoying smartphone poky SIM tools to slide the drawer out. (We're assuming that this is user-accessible; the plastic SIM tool Samsung provided bent easily and wouldn't let us inside to verify.)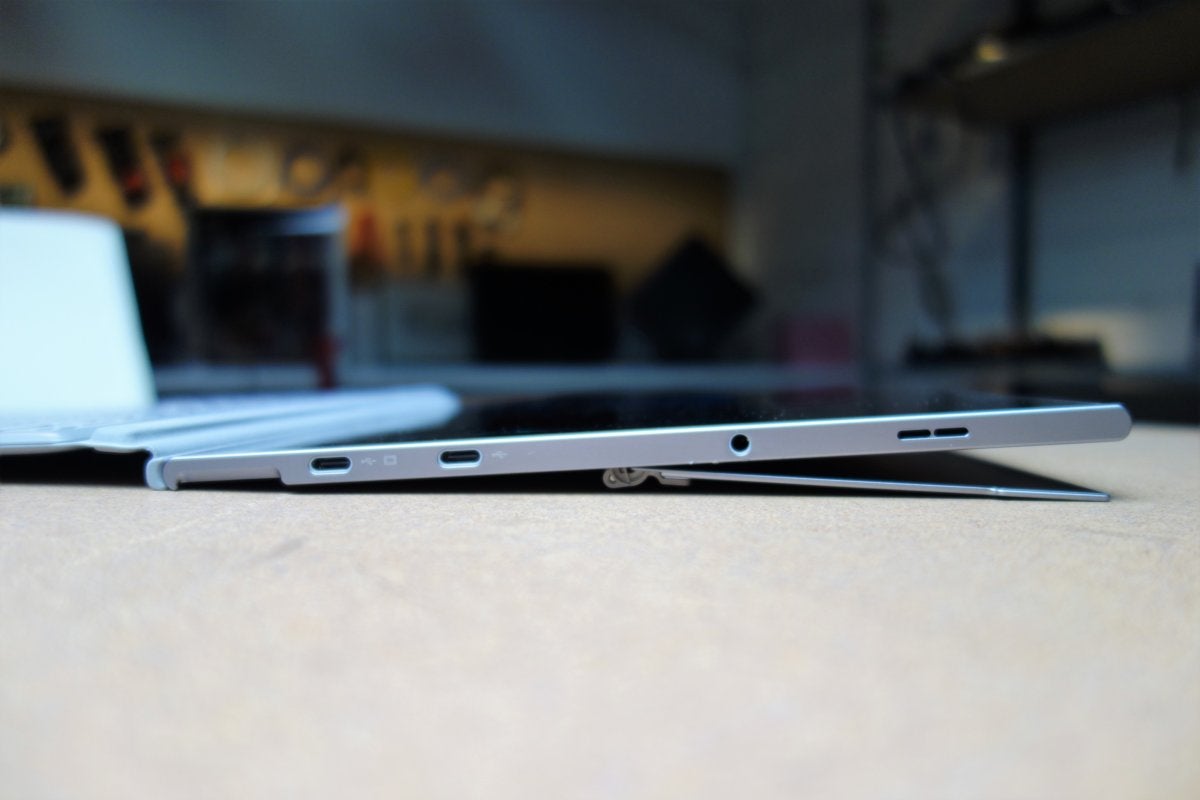 There's no Windows Hello-certified depth camera, though there's a fingerprint reader on the rear of the tablet, right next to the camera. It seemed to have some problems reading my finger during setup, and I'm not sure of the advisability of placing a fingerprint sensor next to a camera lens, which could be easily smudged. Otherwise, though, it works acceptably.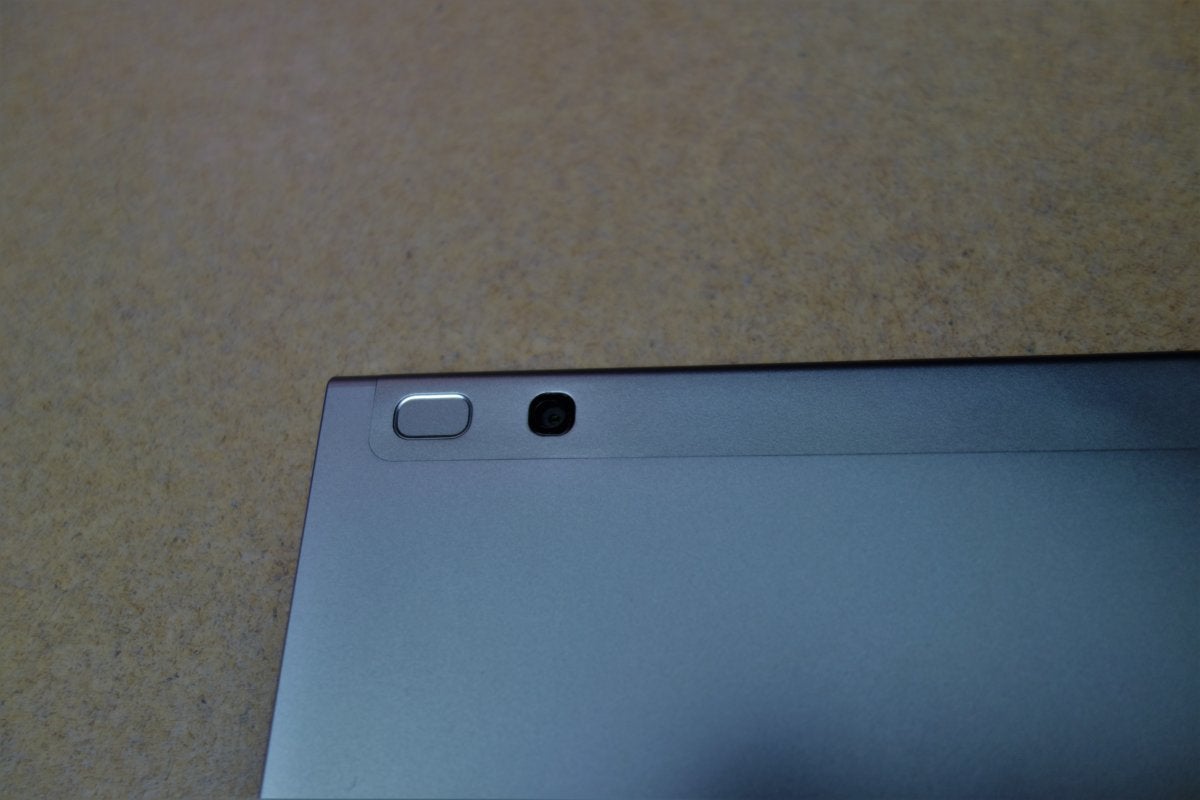 As for LTE, it's clearly one of the reasons for buying a device like the Galaxy Book 2. If you want to be always connected (and who doesn't?) a tablet like this will do the trick. I don't have a Verizon-powered smartphone for comparing reception to, but the Book 2 seemed to pick up a signal everywhere a T-Mobile phone could, and then some. Remember that you'll be able to buy a Galaxy Book 2 from a Sprint, AT&T, or Verizon store, but you'll have to pay extra for a connection plan.
As noted elsewhere, though, Windows prioritized the LTE connection over my Wi-Fi connection. That's a problem for two reasons: First, not all cellular plans are unlimited; and a cellular connection was (fortunately) listed as "metered" by Windows. While that prevents multi-gigabyte updates from being downloaded, unnoticed, over your cellular connection, it also means that updates and OneDrive syncing can't take place without manual approval.
Finally, don't forget that the Samsung Galaxy Book 2 ships with Windows 10 in S Mode, which restricts apps to what's provided in the Microsoft Store. Do you prefer Google's Chrome browser? Sorry! Remember, switching from S Mode to the full-fledged Windows 10 Home is a pretty simple experience, and shouldn't cost you anything. It's a one-way switch, though.
The real problem is that we still ran into applications—specifically two of our benchmark applications—that flatly refused to run on our Galaxy Book 2, because of the way they were coded. That's a risk you'll have to take.
["source=gsmarena"]