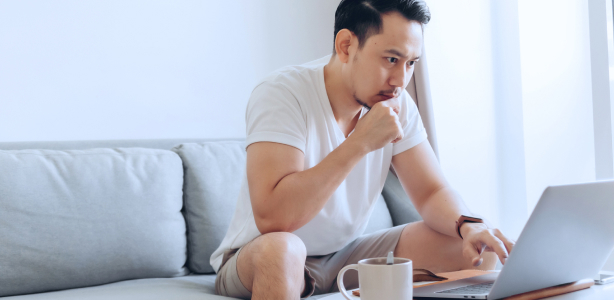 What's worse than a surprise call from a law enforcement official telling you to pay a fine or be forced to serve time? Providing your personal information and paying that fine only to find out that it was all a scam. You didn't miss jury duty; you didn't commit a crime — you were just tricked into thinking that you did. 
Sound unbelievable? It's more likely than you'd think. 
Who 

A

re 

Y

ou

 

C

alling

 

C

riminal

, 

C

riminal

?

 
According to ZDNet1, the FBI released a warning about scammers impersonating government officials or law enforcement agencies to steal personal information and money from unsuspecting people. 
After acquiring phone numbers and names from real users, scammers use fake credentials from well-known law enforcement agencies to contact victims. Under the guise of these officials, scammers claim that the user's identity was used in a crime and ask them to provide their social security number and date of birth for verification. The fraudsters will also call or text about apparently missed jury duty, missed court dates, warrants out for arrest, or other local fines that require payment to be solved. 
These criminals demand payment in multiple forms, but the most common are prepaid cards, wire transfers, and cash sent through mail or through cryptocurrency ATMs. If victims do not pay these fines or provide their personal information, the scammers in disguise will threaten them with potential prosecution or arrest. 
How to Identify Phishing Scams Over the Phone

 
The FBI states that no law enforcement agency will ever contact you asking for money, but if you're still unsure whether you're being scammed, here are a few more phishing tips that can help: 
Confirm the source

 
Unsolicited phone calls or texts are best avoided altogether or confirmed with a second source. Verify the caller's identity with the organization they claim they represent. Ask for a name and position and make it clear you will be following up to verify their identity. 
Keep personal information private

 
Do not reveal any personal or financial information over the phone, through text, or through a link provided in a text message. 
Lack of personalization

 
Generic greetings that do not address you by name, especially when asking you to verify your identity or pay a fine, are a definite indicator that you may be being scammed. 
Spelling and layout

 
Any strange grammar or spelling mistakes in a text message can be signs that this is someone impersonating an official agency, company, or higher-up to scam you. 
How to 

I

dentify

 

O

ther

 

T

ypes

 of 

P

hishing

 

S

cams

 
Although scammers try to trick users over the phone, phishing scams can also happen over email. In addition to the tactics mentioned above, here are some extra tips on how to detect and avoid phishing emails: 
A sender address that's just a bit off

 
Cybercriminals will often impersonate well-known brands or individuals by using fraudulent email addresses with just a few alterations of letters or characters. An example is an email address that appears as "bank0famerica.con." 
Hyperlinks

 
If you receive a message or email with a link, hover over the link without clicking on it. This will allow you to see a link preview. If the URL looks suspicious or doesn't match up with the content in the email, do not interact with it and delete the entire message. 
Attachments

 
Be cautious of any attachment in an email. Scammers often use attachments as a sneaky way to deliver viruses and malware onto unsuspecting people's devices. 
Protect Yourself From Phishing Attacks

 
Phishing scams can be deceitful, especially with the added pressure of a seemingly real (but definitely fake) government official or law enforcement agency accusing you of breaking the law. However, by following the tips outlined above, you'll be able to spot these scams from a mile away and stay safer online! 
["source=mcafee"]