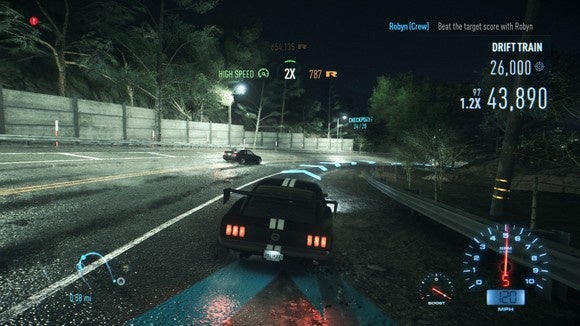 Traditionally summer is a time for delving into the backlog, but this year game makers seem determined to add more games to the pile, courtesy of a heaping helping of freebies.
In the "sort-of free" pile goes the new Need for Speed. EA's letting you access a demothrough Origin, and the word demo is extremely generous here: It consists of ten solid hours of racing. And it's the full game, not a slice. I don't think it's a great racing game, but I can't argue with free-ish.
And then there's "actually free." First up is Elite Dangerous: Arena, the PVP dogfighting module split off from space simulator Elite Dangerous – The Full Game or whatever you want to call it. It's apparently free-to-grab-and-keep from now until July 11, either through Steam or Frontier's website.
Ubisoft is also giving away a game: The original Splinter Cell, from waaaaaaay back in 2002. You know, back when Sam Fisher still wore the suit and the night vision goggles and stuff. That promotion starts July 13, and it's the second of many. To celebrate 30 years in the industry, Ubisoft is giving away a game per month for the next year. Cool—as long as you don't mind using Uplay. (June's game was Prince of Persia, by the way. You can still grab it for the next few days.)
Work for the freebie
And then there's Trials of the Blood Dragon. Yes, we're still talking about free games—sort of.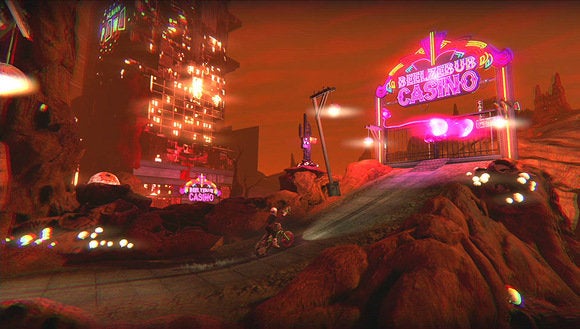 Ubisoft will give you a free copy of Trials of the Blood Dragon on July 22, provided you can beat its demo with 15 or fewer faults. And the offer's only valid that one day, so hopefully you weren't planning to spend that Friday outside or with friends or anything.
Also, Trials of the Blood Dragon is apparently a not-so-great game, so who's to say if it's even worth it?
Stage up
Speaking of which: Did you hear that multiplayer hunters vs. massive monster shooter Evolve went free-to-play this week? It's pretty fun, and was a full-priced game when it launched just last year.
Okay, okay, I swear I'm done with the free games now. Let's move on to some real news and trailers and what-have-you.
Sequel time
…Like this trailer for Halo Wars 2, a game I'm still not sure anyone really wants! Nevertheless, this "Campaign Cutscene" showed up at RTX last weekend.
Healing headshots
Ever since Overwatch's launch in May, Blizzard's been teasing an upcoming roster addition named "Sombra"—supposedly a support/sniper hybrid. And now we have an idea of what that means, courtesy of this image Blizzard tweeted out: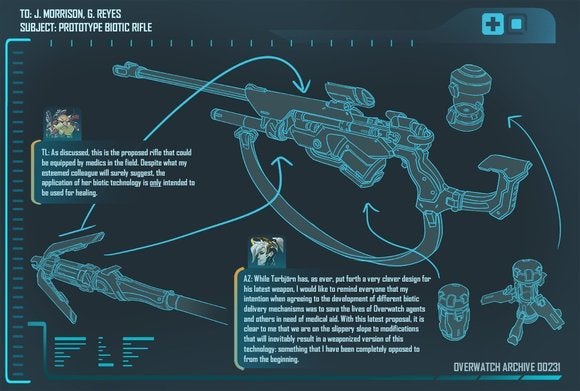 To summarize: Torbjorn built a gun to heal people. Mercy objects, seemingly thinking it has the potential to be dangerous also. Sure sounds like a sniper/support class to me. No word yet on when Sombra will make it into the game, but signs point to soon.
Truly endless
Sega bought Amplitude—creators of Endless Space, Endless Legend, and Dungeon of the Endless a.k.a. many of the best strategy games in the past few years—this week. I believe that makes Sega the reigning lord of strategy games, with a stable that now includes Amplitude, Creative Assembly (Total War), and Relic (Company of Heroes/Dawn of War). Impressive.
Reskins
Nintendo and Niantic also launched the mobile game Pokemon GO this week. But even better? Square Enix did a mockup of Pokemon GO in the style of its Hitman Go/Lara Croft Go/Deus Ex Go series. It's fantastic.
["source -cncb"]