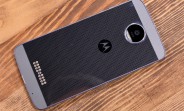 It's been a while since Lenovo made the Moto Z and Moto Z Force official, and it's almost time for Verizon to announce its Droid-branded versions of the handsets too. This will happen at an event on July 14, which is next Thursday.
At that point we are going to find out how much the Moto Z Droid Edition and the Moto Z Force Droid Edition will cost at the carrier nicknamed Big Red. Keep in mind though that the Moto Z Force will be exclusive to Verizon. On the other hand, the Moto Z will be purchasable unlocked in the US, but starting at a later date. Thus Verizon will essentially have a period of exclusivity on this model as well, but a limited one (as opposed to the Force).
We assume Verizon will also sell some MotoMods, the modular accessories that snap onto the Z line's backs and represent one of its unique selling points. Some MotoMods have already been made official, while others are still reportedly in the pipeline. The Moto Z and Z Force will probably become available this month or in August, since Motorola said they would launch at Verizon "this summer".
Source
["source-gsmarena"]