Samsung's more rugged version of its flagship phone may be about ready to hit the trail.
The Galaxy S7 Active makes a cameo in the support section for the Samsung Level app, which is used for several bluetooth speaker and headphone accessories. It doesn't appear Samsung is too concerned about this leak, as after an initial report ran about the finding the S7 Active still appears on the Samsung Level listing in the Play Store.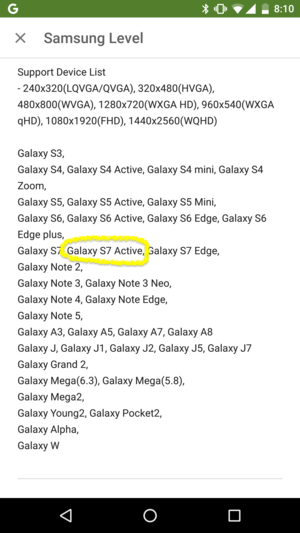 Samsung has often released an Active variant to its flagship Galaxy phone, as it did with last year's Galaxy S6 Active. The Active line usually has a more robust body that's water and dust resistant and built to withstand drops and hikes through the forest.
Samsung will need to differentiate the phone even further this year, as the company increased the battery on the S7 and S7 Edge and made them water resistant. So expect  a stronger build or even beefier battery performance. For example, the S6 Active had a 3,500mAh battery in comparison to the S6's 2,800mAh.
In the past, the Active variants have been annoyingly carrier-exclusive. There's no telling if you'll be able to buy a Galaxy S7 Active from more than one carrier.
Why this matters: The biggest takeaway is how Samsung is closing the gap in terms of features between its flagship model and the Active edition. The S7 and S7 Edge will probably suit most everyday concerns, especially if you slap them inside a case (a really good idea with that glass build). But the Active model should still appeal to those who want something that won't shatter or run out of juice so quickly.
["source-gsmarena"]