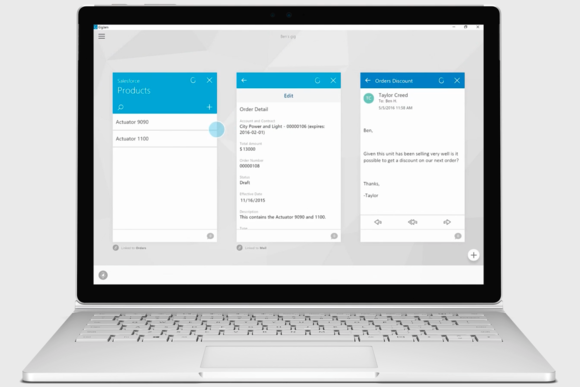 Anyone can get into the private beta of MIcrosoft's new GigJam productivity service, which is aimed at helping teams of people collaborate in real time over the Internet, the company announced Thursday.
GigJam combines data from a variety of services including Microsoft's own Office 365, Trello, Dropbox, and Salesforce. Users can then bring that information into a shared workspace, allowing them to quickly work together.
Users can easily redact part of the information they're sharing with other people, meaning they can selectively share only what needs to be seen in order to get a job done.
There's no way around it: GigJam is a kind of wacky product Microsoft has built to help people get work done together. But what's interesting is that it's emblematic of the company's current approach to the productivity market — focused on letting people quickly and independently collaborate across different services while maintaining a secure environment.
Here's how it works: One user starts a "Gig," and then pulls in information from whatever services they need, like email, Salesforce, Office documents, and Asana tasks. That information shows up as a card inside GigJam, where users can highlight some information inside a card, redact other information, and then send the whole bundle off to another user for review or editing.
The second person only sees the information that's being shared with him, so they're not able to access other parts of the information that the Gig's originator has in front of her.