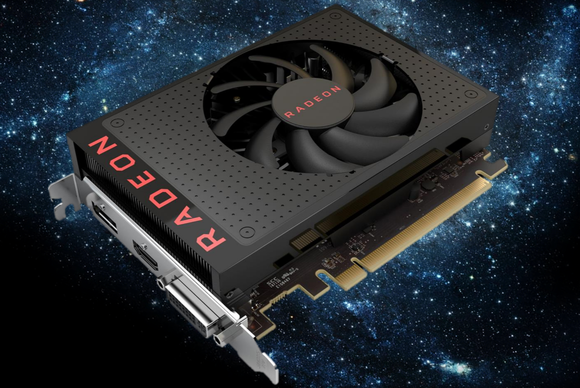 Nearly two months back, smack-dab in the midst of E3, AMD CEO Lisa Su took the stage at the PC gaming Show and introduced the Radeon RX 460 and Radeon RX 470graphics cards to the world—the final two members of the 14nm Polaris GPU family. The latter targets "refined, power-efficient" 1080p gaming, while the former was built for superb e-sports performance, she said. But that was it. Since then, there's been only silence, leaving Radeon enthusiasts rabid for more details.
Today, you get them. Even better: Both cards will hit the streets in the very near future.
But first, the bad news: AMD isn't disclosing pricing information for either card just yet, though they'll cost less than the $200 RX 480 as AMD continues its "graphics for the masses" push.
Radeon RX 470
The Radeon RX 470 is the first up, launching in the middle of next week, on August 4. This card's designed to be a damned fine 1080p gaming card. AMD says it hits 60 frames per second-plus with anti-aliasing enabled in a slew of today's top-end games, includingWitcher 3, Rise of the Tomb Raider, Fallout 4, Far Cry Primal, Call of Duty: Black Ops III, and more. Testing was performed on a system using a Core i7-5960X with 16GB of RAM, with every game set to High graphics presets or higher.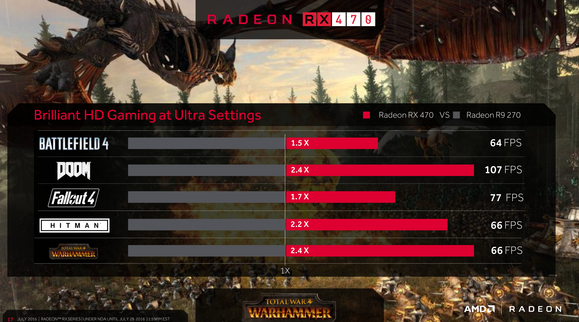 That's damned impressive for a graphics card costing (somewhere) less than $200.
Comparing the Radeon RX 470's spec sheet against the $200 Radeon RX 480's technical details reveals how that's possible. The RX 470's clock speeds hit up to 1,206MHz, with 4GB of onboard GDDR5 memory traveling over a 256-bit bus. That's pretty darn close to the RX 480's 1,266MHz clock speed, and the same amount of RAM (though the RX 470's memory is slightly slower, at 6.6Gbps effective versus 7.0Gbps on the RX 480).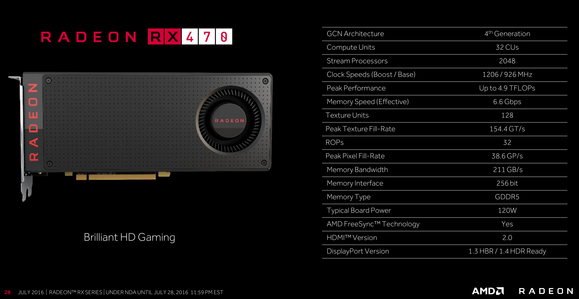 The song remains the same under the hood. The RX 470 only has four fewer compute units than the RX 480; 256 fewer stream processors; 16 fewer texture units; and the same amount of ROPs. Without diving into deep technical details about what all that means, the card's performance should be very close to the RX 480's impressive level of power—though the RX 470 is unlikely to be virtual reality-capable. It'll be interesting to see whether this card ravages the value proposition of the $200 4GB Radeon RX 480 that's AMD has been promoting so heavily.
Another key difference between the RX 470 and RX 480: power draw. The RX 470 only sips 120 watts of power, compared to the RX 480's 150W. At 120W, it's tied with Nvidia's new GeForce GTX 1060… assuming it stays underneath that threshold. The RX 480 can draw more than its rated TDP under load. That said, I don't expect to see a repeat of the Radeon RX 480's excessive PCI-E power consumption with the RX 470, especially sinceAMD's already fixed that problem with new drivers.
To put the Polaris GPU's power efficiency improvements in proper perspective, the Radeon RX 480 and older Radeon R9 390 deliver similar levels of in-game performance—but the Radeon RX 480 uses 134 fewer watts to do so. It's exciting to see AMD's cards make such a large leap forward in power efficiency.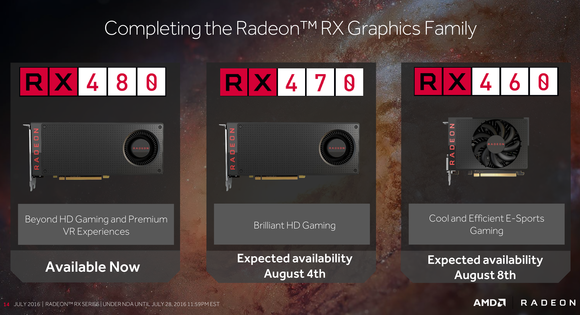 Radeon RX 460
That segues nicely into AMD's other new card: The Nano-esque Radeon RX 460, scheduled to launch on August 8. The RX 460 draws less than 75W, which enables it the card to draw all of its power via your motherboard's PCI-E slot—no addition 6-pin or 8-pin power connectors required.
The RX 460's power connector-less design means AMD finally has a rival to Nvidia's popular GTX 750 Ti. Nvidia's card proved to be a hit with people looking to add decent gaming capabilities to small form factor PCs or to big-box PCs from the likes of Dell and HP, which often lack supplemental power connectors. In fact, Nvidia even kept the GTX 750 Ti alive after introducing the more potent GTX 950, which demanded extra power.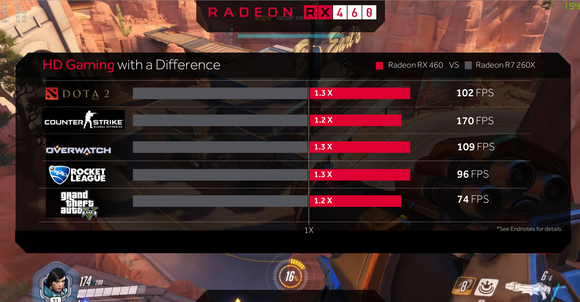 Seeing as how the GTX 750 Ti is several generations old now, you'd expect the Radeon RX 460 to outperform it. AMD's documentation reveals the RX 460 delivering 1.2x to 1.3x more performance than the older Radeon R7 260X—which performed fairly equally to the GTX 750 Ti—across a slew of multiplayer e-sports games.
That selection of games plays into the RX 460's target audience. AMD's pushing the card as a superb low-cost option for e-sports games, promising 60 fps or higher at 1080p resolution in Overwatch, League of Legends, Counter-Strike: Global Offensive, Dota 2,World of Warships, Team Fortress 2, Heroes of the Storm, and Rocket League.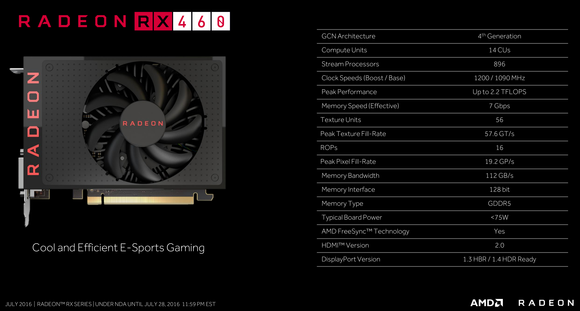 The RX 460 features a severely cut-down version of Polaris compared to its pricier cousins, with half as many ROPs and less than half as many compute units and stream processors as the RX 470. It also comes with 2GB of RAM in its most affordable model—though 4GB options will be available—with data sent over a smaller 128-bit memory bus. Don't expect performance miracles out of this Polaris entry, in other words—but it should deliver a solid basic gaming experience.
To that point, the power-efficient RX 460 will be the first Polaris chip with a mobile variant, which AMD claims is capable of "enabling console class GPU performance in incredible form factors." And there's already a real-world laptop ready to embrace it, as AMD also announced that HP's Omen lineup will include Radeon RX graphics options.
So how does it handle? AMD's documentation compared an RX 460-equipped notebook with a similar GeForce GTX 960M-equipped laptop and says the RX 460 system hit 62 fps at 1080p/high settings—10 fps more than the Nvidia laptop.
Polaris revealed
Of course, the new cards support the same underlying bells and whistles announced for the Radeon RX 480, including the powerful Radeon WattMan overclocking tools, HDMI 2.0b, high dynamic range video, H.265 encoding and decoding, FreeSync, Frame Rate Target Control, and dedicated asynchronous shader hardware that can improve performance in next-gen, "close to the metal" DirectX 12 and Vulkan gaming APIs.
Support for all those display technologies should make the RX 460 an appealing option for home theater PC owners, too.
The only question left—beyond price—is how well these cards truly perform in the real world, rather than in AMD's test labs. With both the RX 460 and RX 470 launching over the next week and a half, we'll know the answer sooner than later. Finally.
["source-gsmarena"]