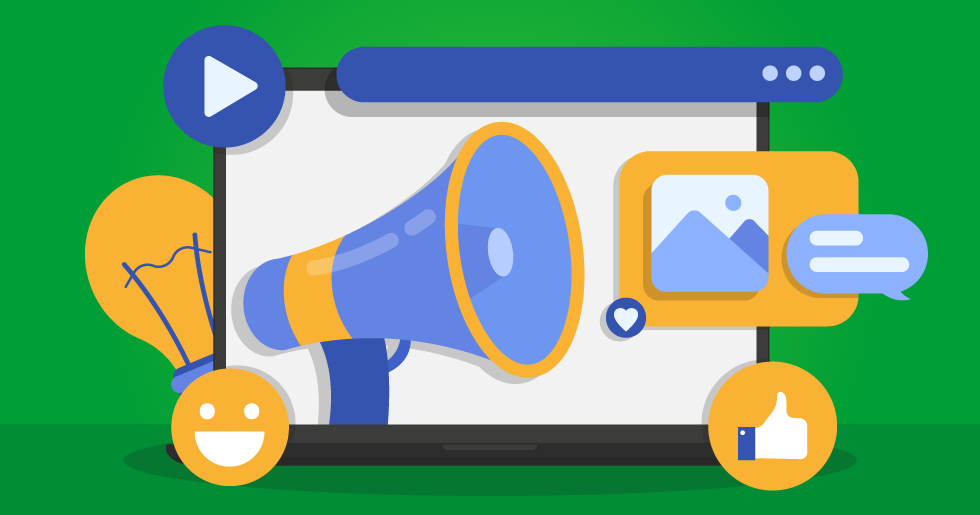 Need a stronger content strategy on social?
Neglecting your social media content gives competitors a chance… to suck up YOUR engagement!
Here's the reality:
You NEED to be posting engagement-provoking types of social media content.
Because if YOU don't give your audience what they want — your competition will.
In this guide, you'll learn:
3 Reasons why social media content is ESSENTIAL
23 Types of social media content You HAVE to USE
The MOST EFFICIENT way to post your social media content
The 23 Types of Social Media Content You NEED to Use
The following 23 AWESOME types of content you can start using will engage your fans and grow your following (and your business):
User-generated content
Quotes
Podcasts
Live streams
Articles
Infographics
Webinars
Customer testimonials
Audience questions
eBooks
Guides
Memes
Polls
Industry research & findings
Videos
Educational content
Product Promotion
Ask Me Anything (AMA)
Share trending topics
GIFs
Influencer collaborations
Stories (Snapchat, Instagram, Facebook, Linkedin)
Post Collabs
Social media marketing isn't going anywhere.
Why?
Nearly 3.78 BILLION people use social media in 2021 (and counting).
That's HALF the planet.
But it's not enough to just BE on social media to connect with those people.
Your content has to EXCITE them if you want to stand out!
Here are 3 reasons why you should prioritize your social media content.
1. Social media gives your brand a voice and presence
Posting engaging (and varied) content types on social media develops your brand's voice.
And creating the right voice?
That's CENTRAL to relating well with your target audience.
Think about the differences between the GQ Style and Kylie Cosmetics brand voices.
Each targets a different market, so they adapt their voices to match their customers!
When your social media communicates the right voice, customers come to you.
In fact, 75% of people have purchased something BECAUSE they saw it on social media!
And they didn't just HAPPEN to find those products on social.
They likely saw them by following brands they RELATE with most!
2. High-quality content keeps followers loyal
The right content keeps your page fresh and EXCITING.
Those qualities are pivotal to keeping your fans and supporters engaged and loyal.
In other words, social media users scroll because they WANT to see good content.
If you consistently post awesome content, you'll earn followers, likes, and comments.
Most importantly, you'll earn LOYALTY.
Loyal supporters are the most likely to do the following:
make repeat purchases
attend your events
share your brand with others
It sounds crazy because it's just social media, right?
But GREAT social media content is the first step to that kind of consumer relationship.
3. It drives organic traffic that can turn into leads
Can you get eyeballs on your page without spending a dime on advertising?
YES!
Paid ads have upsides BUT organic traffic from social media is more affordable (especially for the long-term).
It's also WAY more interesting for your audience!
Blend entertaining content with marketing best practices, and BAM.
Watch your organic traffic SKYROCKET (and your marketing expenses decrease).
1. User-generated content (UGC)
UGC is content others create and you repost (while giving credit to the original creator).
For example, it's reposting someone else's content and tagging them on the post.
On Twitter, it's as simple as a retweet.
UGC is an EASY and smart way to increase engagement and reach.
New and existing followers are motivated to connect with you when they see these posts.
Why?
Like you, they probably want to increase their following, too!
UGC shows your followers that you care about and keep up with your audience.
GoPro models UGC very well!
They consistently share content their followers capture with GoPro cameras.
Here's one example of an Instagram repost:
UGC is ESPECIALLY successful on Instagram.
Followers love bragging to their friends and colleagues about being featured!
And who knows?
The accounts you repost from may decide to create UGC too.
And they may just re-post YOUR content as a "back-atcha."
Here's how to find and use UGC:
Monitor your social platforms (Instagram, Twitter, Facebook, etc.).
Find content featuring your product (check your tags and hashtags).
Re-post, re-share, re-tweet (make sure you credit the original poster)!
KEY TAKEAWAY: Post UGC to show your fans you support them and keep your content fresh.
2. Quotes
Quotes are WILDLY popular on social media.
They help inspire and motivate people when they need an extra boost.
Quotes can be all text but using images is a GAME changer.
Facebook and Instagram users are particularly attracted to high-quality visuals.
Use a variety of quotes, including:
life quotes
funny quotes
motivational quotes
famous quotes
Use Post Planner's Content Stream to organize all your quotes posts in one place.
["source=postplanner"]