The Moto X4 and Moto Z2 Force are now making rounds online by way of leaks, giving eager onlookers a good peek at what Motorola has under its sleeve.
One big takeaway here is that the Lenovo-owned company seems to be jumping on the dual-camera bandwagon, as the two smartphones in question are equipped with not one but two sensors.
That's just half the story, though.
Moto X4 Leak Is The Midrange Phone With Dual Cameras
According to the leak, the Moto X4 is set to offer a smooth user experience at a low price point, thanks to its Qualcomm Snapdragon 630 processor that's paired with 4 GB of RAM.
It's expected to sport a full HD resolution and provide 64 GB worth of internal storage that's expandable via a microSD card. A 3,000 mAh is said to keep the lights on for the Moto X4.
All those components are safe from water and dust due to its IP68-certified design, the same level of resistance the likes of the Samsung Galaxy S8 and the LG G6 have.
As for the nitty-gritty details regarding the Moto X4's dual cameras, the rear setup will allegedly comprise an 8-megapixel sensor and a 12-megapixel companion. Meanwhile, the front snapper will have a 16-megapixel sensor.
That's not all, either. It'll also have a fingerprint sensor on the front that can be used to unlock the phone or carry out certain functions with gestures.
On an interesting note, the Moto X4 is rumored to be the first non-Google phone to have Fi support, and if that turns out to be the case, then it can seamlessly shift between carriers — T-Mobile, Sprint, and U.S. Cellular — and even Wi-Fi hotspots.
Moto Z2 Force Looks Just Like The Moto Z2 Play, Except For The Dual Cameras
At first glance, the Moto Z2 Force will probably remind everyone of the Moto Z2 Play because the two look similar across the board, except for the former's rear dual cameras. Unlike the Moto X4, however, the Moto Z2 Force didn't come with that much info, but it's a safe bet to assume that it'll be quite a significant upgrade from the original Moto Z Force.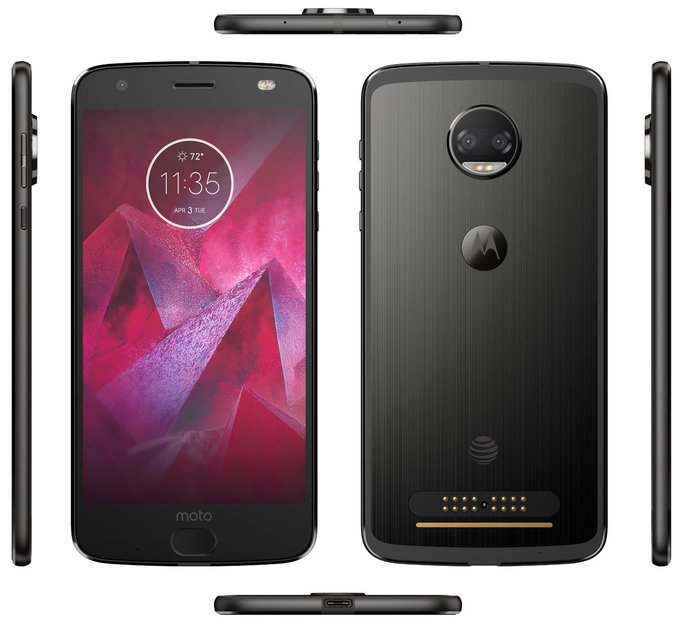 Regarding the similarities in appearance with the Moto Z2 Play, that shouldn't come as much of a surprise since Moto Z phones need to have identical designs to make sure they're all compatible with every Moto Mod.
Speaking of which, release dates for the new Moto Mods have been revealed recently, including the Moto GamePad, JBL SoundBoost 2, Moto TurboPower Pack, and Moto Style Shell with Wireless Charging.
In fact, the Moto 360 Camera Mod is also in the mix, and it can take the smartphone photography experience to the next level, aside from the Moto Z2 Force's dual cameras.
["source-techtimes"]