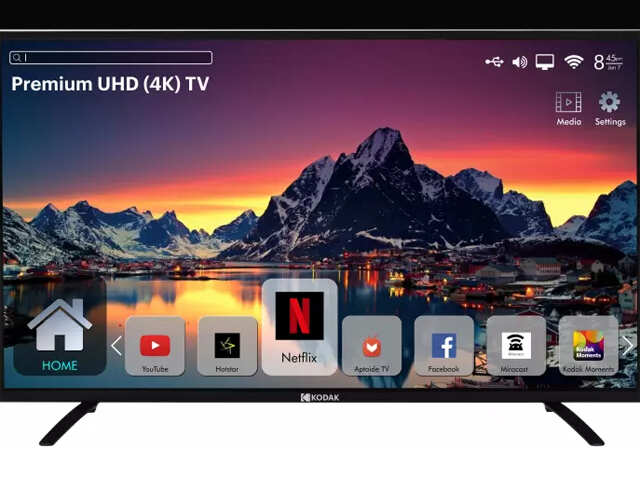 Online sales have been a major boost for the growth of Kodak TVs in India.
The brand Kodak made a re-entry in the India market in 2016 after a brand licensing deal with Super Plastronics Pvt Ltd. However, the re-entry had nothing to do with photography. This time the brand Kodak made a splash with its range of smart televisions. Now the iconic photography brand The Eastman Kodak Company is aiming to make it big in the white goods segment with India in its crosshairs.
The company is likely to sign more brand licensing deals in the country and we can soon get to see Kodak-branded washing machines, microwaves, air conditioners and more launching in the country. So, what is motivating Kodak to aggressively opt for more licensing deals in India? Avneet Singh Marwah, Director and CEO of Super Plastronics Pvt Ltd, attributes this to the success of Kodak smart-TVs.
"We launched Kodak televisions in 2016 in India. Initially, we had partnered with e-commerce player Shop Clues. After receiving feedback from the market, we had then partnered with Flipkart. Soon, we became one of the top selling smart TV brands in the country on Flipkart. Later we started our journey in the offline market too. We have around 28 offices in India and about 350 service centers across the country," said Marwah.
Online sales have been a major boost for the growth of Kodak TVs in India. "Online sales of smart televisions have grown big time. Offline market share is stuck at around 25%. People are buying more TVs from e-commerce websites these days," added Marwah.
To stay competitive in the market, the strategy for the Kodak brand licensee is simple: Launch feature-rich smart-TVs in the affordable segment in various screen sizes. "Kodak has around 3 percent market share in the market and we are targeting to reach 6% in next three years," said Marwah. While the strategy sounds almost similar to what Chinese smartphone brand Xiaomi did in 2014 in the Indian smartphone market, it seems Super Plastronics is applying itself better this time in smart-TVs.
Talking about the average screen size preference of Indian consumers, Marwah mentioned that the in urban areas, people mostly prefer 40-inch TVs while in rural it is 32-inch. Also, the demand for smart TVs in India has increased significantly. "By end of this year, the smart TV market share will increase to 60%. Also, there is a growth of 70% in the 32-inch size segment of smart TVs," he said. This demand for smart TVs is due to the sudden push for free 4G mobile data and thanks to the rapid growth in internet adoption among citizens. On the other hand, the demand for 4K TVs have remained static due to far lesser content in UHD resolution.
["Source-gadgetsnow"]